News / Calendar
The season 2012/13 was very special for me and my work. 20 years ago, in autumn 1992, my collaboration with the artist Luca Giacomo Schulte and the photographer Rosa Frank started. On the occasion of this anniversary we presented the festival "20 Years - 20 Days" with several of my pieces but also theatre works from my companions Luca Giacomo Schulte, Sarah Chase, Lorenzo De Brabandere and Emmanuel Eggermont. The festival included as well a photo exhibition from Rosa Frank and the first German book publication about my work "Schreiben mit Körpern. Der Choreograph Raimund Hoghe" edited by Katja Schneider and Thomas Betz, with texts from German authors and photos by Rosa Frank (published by K. Kieser Verlag, Munich, 2012).
In spring 2013 the first English publication came out: "Throwing he body into the fight. A Portrait of Raimund Hoghe". This book was edited by Mary Kate Connolly and published by Live Arts Development Agency, London, Intellect Books, Bristol, England, and by Intellect, The University of Chicago Press. In this book you find texts from different writers, artists, and photos from Rosa Frank.
At the end of the festival Montpellier Danse 2013 a third publication was launched: "Raimund Hoghe". Kunststiftung NRW initiated this project and made the 300 pages book possible.Short texts in English, French and German give together with photos from Rosa Frank, Jacqueline Chambord, Luca Giacomo Schulte and other photographers another look on my work. It is now published by Theater der Zeit, Berlin. The three books are very different and I'm very thankful for the wonderful collaboration with the editors, writers, photographers and publishers. It was a lot of work but I'm very happy with the result.
Time is passing and after 30 years my first book about Pina Bausch's work was this summer translated in France: "Bandoneon - A quoi bon danser le tango?" (published by L'Arche Editeur, Paris). "Bandoneon" was one of my first pieces as dramaturge for Pina Bausch and as a writer I followed the rehearsals from the first days of the creation until the première of the piece in December 1980.
At the moment I'm working on a new solo for myself: "An Evening with Judy". After my first solo "Meinwärts" with the music of the Jewish tenor Joseph Schmidt, and my homage to Maria Callas, "36, Avenue Georges Mandel" I focus now on Judy Garland, one of my favorite singers since my childhood. As in the other solo pieces I will also have guests in "An Evening with Judy": the dancer Takashi Ueno and Luca Giacomo Schulte will join me for some moments. The premiere will be this autumn.
You'll always find updated schedules of my work on this website, which I've developed together with Jacqy Gantenbrink.
Raimund Hoghe, August 4, 2013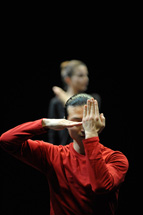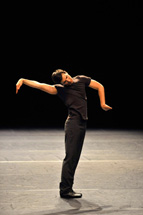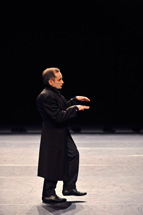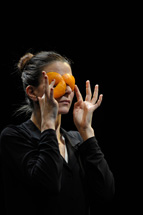 Yutaka Takei, Emmanuel Eggermont, Raimund Hoghe, Astrid Bas
"Si je meurs laissez le balcon ouvert" ©Rosa Frank
Performances September 2013 - March 2014
2013
top
September
2
"Pas de Deux"
Ex Ponto Festival, Dance Theatre Ljubljana (SLO)
13
Book launch "Bandonéon - Autour de la pièce de Pina Bausch"
L'Arche Editeur, Ménagerie de Verre, Paris (F)
20
"I remember" Project and
Film presentation "Sacre - The Rite of Spring"
Festival Materiais Diversos, Torres Novas Castle (P0R)
23
Book launch: "Schreiben mit Körpern"
Festival Materiais Diversos, Goethe Institut Lissabon, Lisbon (POR)
24, 25
"Cantatas"
Festival Materiais Diversos, Teatro Municipal S. Luiz, Lisbon (POR)
27, 28
"Pas de Deux"
Festival Materiais Diversos, Culturgest, Lisbon (POR)
October
5
"Pas de Deux"
Ringlokschuppen, Mülheim an der Ruhr (D)
10
"I remember" Project and
Book Launch "Raimund Hoghe"
Kunststiftung NRW, Düsseldorfer Schauspielhaus, Düsseldorf (D)
18, 19
"An Evening with Judy" Premiere
Theater im Pumpenhaus, Münster (D)
25
Special Project "An Evening - A Tribute to André von Ah"
Festival Queer New York, New York Live Arts, New York (USA)
26
"An Evening with Judy"
Festival Queer New York, Abrons Arts Center, New York (USA)
November
8
"Pas de Deux"
Explore Dance Festival, WASP, Bucharest (RO)
15
"Si je meurs laissez le balcon ouvert"
Théâtre de Liège, Liège (B)
24
"An Evening with Judy"
Festival Automne en Normandie, Le Phare CCN du Havre Haute-Normandie,
Le Havre (F)

2014
top
January
16
"Cantatas"
Arsenal, Metz (F)
24, 25
"An Evening with Judy"
Théâtre Garonne, Toulouse (F)
February
12
"Pas de Deux"
De Warande, Turnhout (B)
15
"Cantatas"
Chassé Theater, Breda (NL)
March
1, 2
"Cantatas"
German Dance Platform 2014, Kampnagel, Hamburg (D)
7, 8
"An Evening with Judy"
tanzhaus nrw, Düsseldorf (D)